co-founder, Owner, and CREW CEO
Erika Hull
Erika spends her days living in Ohio as a proud #gombre 40 something, happily (FINALLY!) married, mother to 6 children (23 year old son, who is no longer with us on earth; 18 year old daughter; 13 year old son; and three girls, ages 8, 6, and almost 3)… YUP, you read that right! That's a whole lotta kids! While caring for all of the humans and facilitating the family's home management, she diligently strives to empower women each and every single day to be the best version of themselves. Having to continuously overcome so much herself (trauma, abuse, passing of a child, genetic disorder, chronic illness and more), she is passionate about helping others rise above their personal obstacles, as well. Encouraging and uplifting others is her calling. With a deep love and understanding of the importance of living a real, unfiltered, unpolished, BETTER over perfect life, Erika believes that we must start incorporating a deliberate "Better over Perfect" mindset into our daily practices. By regularly altering our level of understanding in order to make simple a healthy mental and personal conversation, we set our life's tone as a reflection of community and revelation for others to witness.
With over 15 years of on-the-job experience in graphic design and marketing, and lifetime love-affair with all things crafting, Erika uses her talents as a published artist to bring you one of a kind functional designs, products, inserts and most importantly, time together building each other up. As a planner addict since middle school (with the collection of planners to prove it!), Erika's passion is to aid in equipping you to find the joy, purpose and meaning in the chaos. As the prior owner of Chaotic Blessing, a successful online planning and paper crafting company, she was able to really narrow down what her why is.
Throw it all together, along with Erika's heart to give and serve,and it is easy to understand why she loves to dedicate her time to helping others engage and be present in their current life by adapting the mentality that no matter what area of life they are working on, they must plan, act, do and strive for BETTER not perfect.
co-founder
Hannah Luge
Hannah Luge, founder and creator of Kinleigh's Doodles and the Doodle Box, is an army wife and mother of 3 adorable children; ages 7, 3, and 1. Hannah married and started her family at the young age of 19. She held down the fort while her husband deployed overseas and was searching for something to take her mind off of her husband's job and the struggles she was going through (giving birth to her son alone being just one of them). She quickly discovered that there were other women out there with love for paper, stationery, and planning.
She began making dividers, stickers, and other accessories for her planner and thought other women may like some too. Kinleigh's Doodles (named after her 7 year old daughter, Kinleigh) started with the goal to help support her family with a little extra hobby income for groceries and maybe a little to pay for the "extra necessities" like household items, hair cuts, shoes…but it quickly became so much more.
Her desire to bring functionally beautiful products to the planner community shined brightly. Since opening Kinleigh's Doodles and creating the beloved Doodle Box (an affordable monthly subscription box) Hannah and her family experienced great tragedy with the loss of her best friend and mother. Resilient and strong can not truly explain the strength, courage and bravery Hannah shows in her life daily. She is passionate about helping other women with all things planning, by providing a one-stop resource for all of your functionally beautiful planning needs.
After being introduced to each other's work, each woman's whys became even clearer. Soon they were working together in joint-collaborations and having many, many heart-felt, woman to woman, entrepreneur to entrepreneur, mom to mom, survivor to survivor, conversations. It was not long before they realized that together they could be what each of them were striving for independently. That's the quick, have to keep this to so many words version. The full HD version is full of ah ha moments, laughing, crying, screaming with joy, being so amazingly blessed and thankful, 100 hour work weeks, a bazillion voice text messages and so many awesome little things that have blown their minds and expanded their hearts. But you get the point, Better over Perfect was born by combining their businesses and really concentrating on their vision and mission.
Podcast and Content Collaborator
Annie Smith is a passionate paper planner who also happens to be Youtuber. She loves teaching others how to maximize their time and energy through using a planner. Planning keeps her organized (and sane) while homeschooling her 5 kids and running the household. She and her husband, Justin, have been married for 11 precious years. Always looking for the silver lining, she tries to see past the stressful moments and be positive example to herself- and to encourage others to do the same. In her rare free time, Annie enjoys sitting at coffee shops, searching for literary treasure at used book stores, reading, talking with friends, and scrolling social media.
Podcast and Content Collaborator
Lauren Stapf is a natural born leader who loves to show people the functional side of planning. She recently started her YouTube journey in hopes of sharing with others her passions for paper, planning, and beautifully functional bags and gifts from her business. She has been married to her loving husband for almost 15 years now and they have 1 daughter and 1 fur baby. She owns a construction business with her husband and is also an Independent Senior Consultant with Thirty-One Gifts. That is where she can share fun gift ideas and functional items to show people that it's not just about a pretty bag. Having a tendency to look at the negative first in her own life, she has a skill of uplifting other women and encouraging them to look at the positive. But she is working on the best version of herself everyday and hopes you would join her in the journey.
Podcast and content contributor
Candice Waller is, first and foremost, a sinner saved by Grace and a humble Daughter of THE Most High. She is a published freelance writer; founder, owner, and editor of candicewaller.com; creator of #ScriptTheWord; and all-encompassing encourager of women. She has a great desire to meet her fellow sisters right where they are… without the fear of judgment or condemnation; and strives to be transparent, vulnerable, raw and real. She is a Kingdom buildin', Jesus lovin', nap takin', coffee drinkin', boho gypsy kinda girl. Despite chronic illness, Candice chooses to plant her feet on the Solid Rock and concentrate, instead, on being CHRONICALLY ALIVE. She has been married to her husband for twenty-five years, with whom she has three children, and resides in Oklahoma, USA.
Podcast and content contributor
My name is Jessica and I have been planning from my home in Central Oregon, for the last three years. I live with my husband and three kids very busy kiddos. When I started creatively planning it was because I needed a creative outlet. Before planning, did a lot of scrapbooking and papercrafting. This was when I only had one kiddo. Then when my second came I found pocket memory keeping. Loved it, was perfect for keeping memories and saving space. Enter kiddo #3, I had even less time and space for materials. That is when I "found" planning. For me it is completely functional. I use my planner for work, plans and to dos. Planning is the creative therapy I need but also serves a purpose. I have recently fallen in love with ringed planners. I currently love pocket rings. When I am not crafting I am busy spending time with my family or working for an amazing nonprofit in Central Oregon with the Head Start program. I have been in the early childhood education field for 16 years, starting out as a paraeducator in the classroom, and growing into a role I love in educational leadership. Some of my passions at work include coaching staff, and working with families to ensure they as a family and their child are ready to enter kindergarten.
CREW Support Manager
Hi I'm Gina Smith. I grew up in Ohio but joined the navy where I met my husband, Shawn. I however got out of the navy and followed him from Italy to San Diego to Virginia. We have three lovely children, Brianna 16, Ailiana 14 and Owen 10. I went to the Art institute of Virginia Beach to become a pastry chef. After Shawn retired from the navy, we moved to Ohio and I no longer work as a pastry chef. I love to bake, cook, paint with watercolor, do digital art, refinish furniture, watch movies, plan and bujo.
Podcast contributor
Hello sweet friends! I'm Jessica and I want to know you! I'm blessed the wife to Robert for 11 years (but together 17 years) we have four fabulous sons ages 9 to 4. I've been a stay at home wife and mother since I was 7 months pregnant with my eldest. I'm Christ following, hospitality minded, home beautifying, less toxic life inclined, plan with intention, lover of all things leopard, pink, glitter and gold kinda of gal!
Social Media Manager
Hey there! I am Bethany (a.k.a planwithbethydeen) I am a busy stay-at-home momma of 4 kiddos. All of them are active in sports, soccer, basketball and track! Also on separate school schedules! We also participate in a lot of church activities. My husband also plays soccer and has to travel for work. I needed a way to keep track of everyone's schedule and who needed to be where and by what time! When I am not running kiddos here and there or helping with homework, you will find me playing with my stickers and washi tape in my planner! My other love is cooking! Making old favorites along with finding new ideas via Pinterest or seeing other recipes planner-babes post!
Podcast contributor
Carie Harling is a Writing, Planning, Kid-Wrangling Hockey Widow who lives in the Midwest with her husband and seven boys. Reading is her life-long love and talking about planning is her passion. You can find her at carieharling.com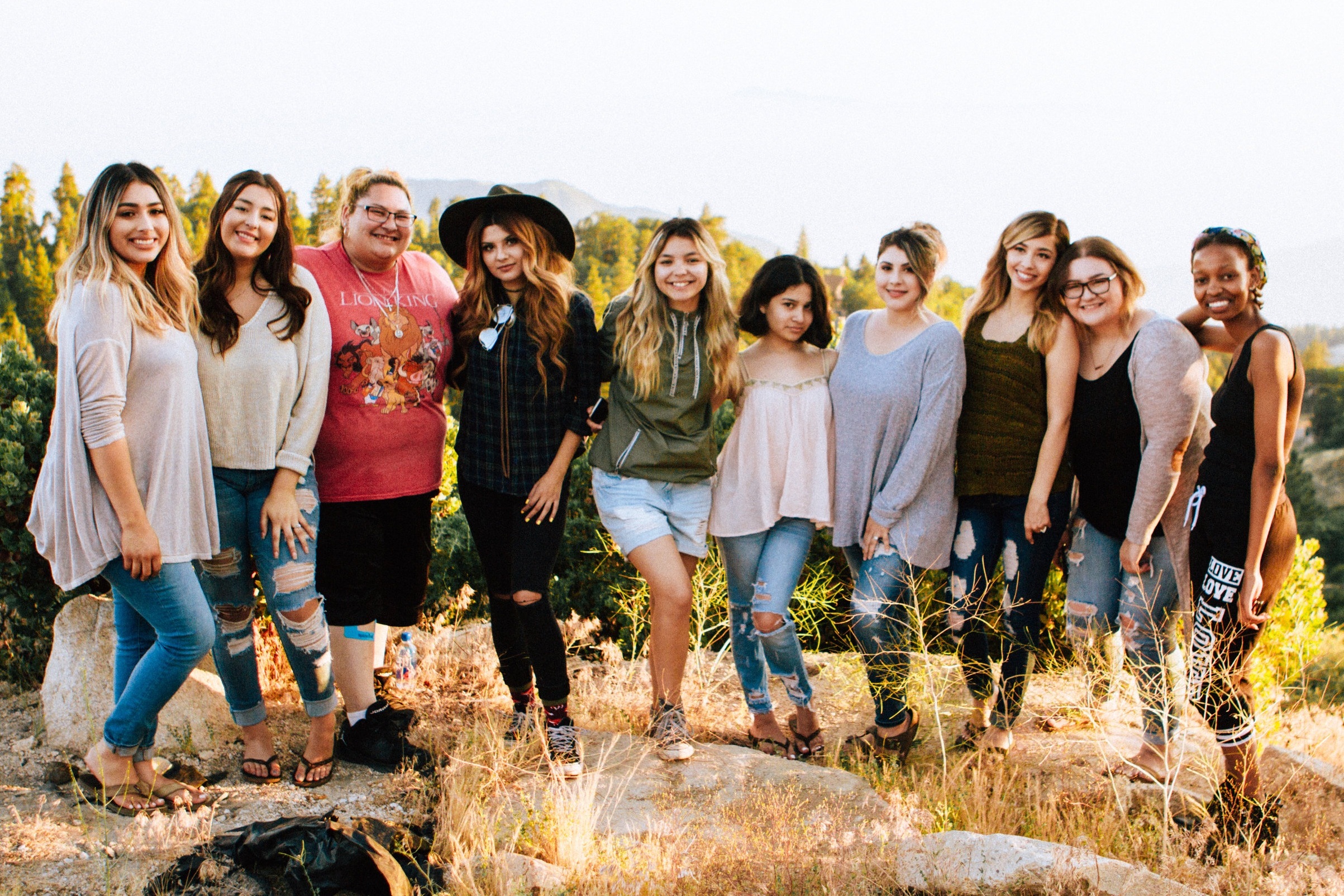 Each and every one of you!